The Top 14 has long been the most glamorous league in the world, with a galaxy of stars from all over the world enticed to test their mettle in notoriously unforgiving and physical French league. And now, with Toulouse bringing back the Champions Cup to France last year, overcoming fellow French outfit La Rochelle in the final, not to mention Montpellier also capturing the Challenge Cup, the Top 14 can once again legitimately claim to be the strongest and best league in the world.
Because apparently 'player welfare' doesn't have a French translation, the Top 14 is also the first Northern Hemisphere league to kick off again this year, having only finished off 2021 at the end of June. Still, the players loss is, we suppose, the kit fancier's gain – as we get to check out all the weird and wonderful new kits that the French teams will be wearing this year.
And with more big hitters in the league than ever before this season in terms of brands, there's an argument to be made that this might be the best Top 14 for kits ever. Bold claims, but here's our pick of the best and worst on show…
Biarritz Olympique 2021/22 jerseys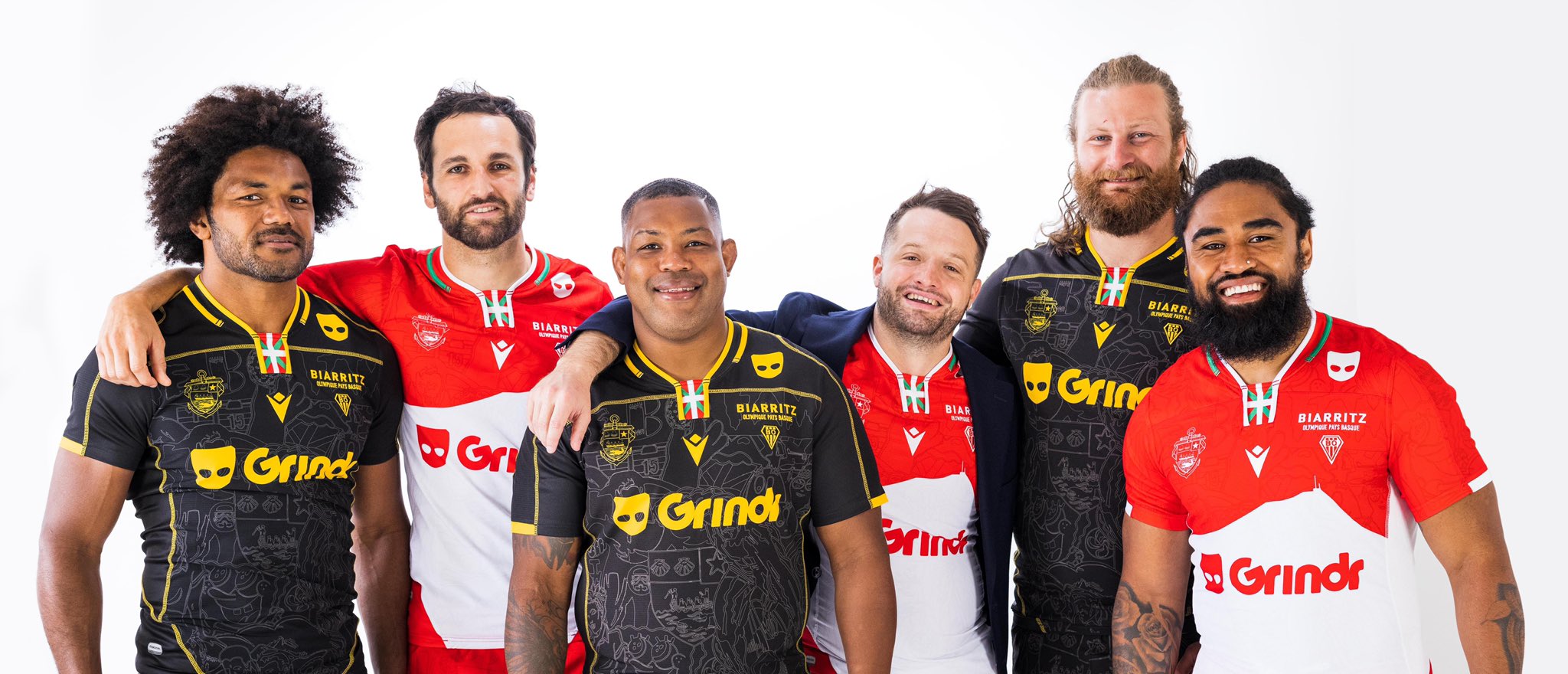 The great thing about Biarritz's long-awaited return to the Top14 is the tie-up with LGTBQ+ social network Grindr with the hope that it will "increase inclusivity in the league and in rugby overall". What's not so good are the kits themselves – the hope shirt's riff on 'landscape outline' thing just looks a bit like a mistake, and the away shirt is SO so busy. The Grindr bit though? Cool as f.
Union Bordeaux-Begles 2021/22 jerseys
Whatever the kit supplier, UBB's jerseys have rarely been anything short of stunning, and this year is no exception – in fact the club might have outdone itself. UBB don't bother with trivial nonsense like, 'home' and 'away' jerseys, instead they have a Bordeaux (red) jersey, an Atlantique (white) and Heritage jersey.
Of these, the pick of the bunch has to be the stunning Bordeaux jersey with blue chevrons mixed with interlocking reversed chevrons… but the harlequin patterned Atlantique shirt is also lovely, as is the Quartered Heritage number… spoiled for choice!
CA Brive 2021/22 Jerseys
Adidas have quietly been doing decent shirts for Brive for a couple of years now, but this black jersey is definitely not one for the history books. The muddy brown graphic on the front looks like the kit hasn't been washed properly, which is not ideal, though the white shirt is a nice shirt, if very similar to last season.
Castres Olympique 2021/22 jerseys
Castres' Kappa home shirt is interesting because it mixes a thin hooped pattern on one side with what can only be described as a basketweave pattern on the other. It's original, sure, but we're not sure this sort of thing should be encouraged. The away kit has a tonal camo pattern that's an instant no for us, and the third looks like you've accidentally thrown the away kit in a hot wash with the home.
ASM Clermont Auvergne 2021/22 Jerseys
Clermont's home and blue third jerseys this season nod to the club's jersey of the 1970s, with the four think contrasting bands running around the front of the design. The away shirt is a great deal more modern, and while it's an interesting design we're not sure it wholly works.
La Rochelle 2021/22 jerseys
Much was expected from the Champions Cup finalists' high-profile switch to Adidas this season, and perhaps that's why the reaction to these first kits has been somewhat muted. The subtle pattern on these designs is decent to our eyes, and the away kit, very reminiscent of Adidas' Highlanders jerseys of late, is a really nice design.
Lyon OU 2021/22 jerseys
Lyon haven't always had the best kits from Macron, and the 2021/22 set is certainly a mixed bag – the home shirt, complete with wolf/fleur de lys pattern is cool, and the third is interesting if not exactly flattering for Mssr Basteraud, but the less said about the howling wolf away shirt the better – stop dancing on the Sunwolves' graves, guys.
Montpellier Herault 2021/22 jerseys
Montpellier swapped Kappa for French national team supplier Le Coq Sportif this season, and with that comes a tricolor trim – a fixture of Racing's LCS jerseys – and a baffling collar. This one so deep it looks like John Travolta would want to play them in a movie. The designs themselves are okay, but not exactly worth shouting about.
Pau 2021/22 jerseys
Pau's jerseys are always a bit different from the rest of the Top14 – their white and dark green colour scheme sees to that. Once again, for what feels like the fourth or fifth season, the Pyrenees mountains provide the design flourish at the bottom of the home and away shirt. It's fine, but it's not what it could be, let's face it.
USA Perpignan 2021/22 jerseys
With Perpignan's promotion from Pro D2 this season, you really can't look for Adidas jerseys in the Top 14 this year, but USAP's colour scheme provides such a better basis for sexy jerseys than Brive or even La Rochelle. The blue shirt's dark blue and white partial stripes is very tasty indeed, while the geometric pattern down the front of the red shirt is like a more successful version of what they tried to do with Brive.
Racing 92 2021/22 jerseys
Sufficed to say, Racing have been playing things pretty close to their chest with their radical new home shirt, which they've released exactly two images of since their tie-up with Nike was announced in July. It's a very bold and very polarising take on one of rugby's classic shirts, that's for sure.
Stade Francais 2021/22 jerseys
Since Stade switched to Kappa a few years back, while their kits have never been boring (though they were occasionally *shock* traditional) there's been a bit of a vibe that now everyone else is doing eye-catching modern kit designs, the Parisiens have lacked the ability to really turn heads with something shocking and bold like they used to in the early 2000s when they were kicking off the whole trend. Yeah, forget about what we said, look at these two absolute stunners for 2021 – welcome back to the party.
Toulon 2021/22 jerseys
Toulon were the other team to switch from Hungaria to a blue chip brand this year, and after arguably never once having a truly nice kit when they were coming up from the lower leagues and conquering Europe, now that home shirt definitely ticks all the right boxes. The away is a bit meh, but we'll forgive them this time.
Toulouse 2021/22 jerseys
It's fitting that Toulouse come last in our round-up of this year's Top 14 jerseys, as so often everyone else's gear is a mere canapé compared to the bounty of kit goodness that the European champions have in store. And 2021 is absolutely no exception – the home shirt is a gloriously modern twist on their Nike shirts in the 90s, while the away shirt is so clean and sparkling white it almost seems a shame to play rugby with it. Once again, they're the kings of rugby, on the field and in the kits.